Fortification Of Rice: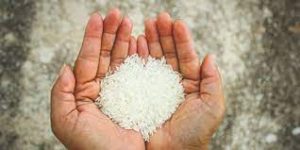 Emphasising that malnutrition is a "hurdle" in the development of women and children, Prime Minister Narendra Modi announced fortification of rice distributed under various government schemes including Public Distribution System (PDS) and Mid-Day-Meal scheme by 2024.
The Food Safety and Standards Authority of India (FSSAI) defines the fortification as "deliberately increasing the content of essential micronutrients in a food so as to improve the nutritional quality of food and to provide public health benefit with minimal risk to health."
According to the FSSAI norms, 1 kg fortified rice shall contain iron (28mg-42.5mg), folic acid (75-125 microgram) and Vitamin B-12 (0.75-1.25 microgram).
In addition, rice may also be fortified with micronutrients, singly or in combination, at the level– zinc(10mg-15mg), Vitamin A (500-750 microgram RE), Vitamin B1 (1mg-1.5mg), Vitamin B2 (1.25mg-1.75mg), Vitamin B3 (12.5mg-20mg) and Vitamin B6 (1.5mg-2.5mg) per Kg.
The Ministry of Consumer Affairs, Food and Public Distribution had launched a centrally sponsored pilot scheme on "Fortification of Rice and its Distribution under Public Distribution System (PDS)" for a period of three years beginning 2019-20 with a total budget outlay of Rs.174.64 crore.
The pilot scheme focuses on 15 districts in 15 states.
Under the scheme, the blending of rice is done at the milling stage. According to the Ministry, Maharashtra and Gujarat have started distribution of fortified rice under PDS in the Pilot Scheme from February, 2020.
The Scheme is funded by the Government of India in the ratio of 90:10 in respect of North Eastern, hilly and island states and 75:25 in respect of the rest.