Ban On Wheat Export From India: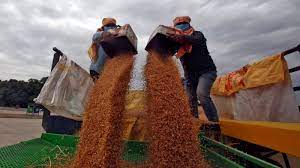 The United Arab Emirates (UAE) suspended re-export of wheat and flour from grain originating in India is basically an assurance that whatever it imports will be used only for domestic consumption.
The development comes a month after India banned wheat exports to meet the demand of its domestic market, neighbouring countries and vulnerable nations.
UAE's Ministry of Economy explained that this decision comes in view of the international developments that have affected trade flows and in appreciation of the solid and strategic relations that bind the UAE and India, especially after the signing of the Comprehensive Economic Partnership Agreement between the two countries and the Indian government's approval to export wheat to the UAE for domestic consumption.
India is the world's second-biggest wheat producer after China. But it accounts for less than 1% of the global wheat trade.
It keeps a lot of it to provide subsidised food for the poor.
Its top export markets are Bangladesh, Nepal and Sri Lanka – as well as the United Arab Emirates (UAE).
India has suspended the export of wheat effective 13 May 2022. In a notification published in the government gazette, the Directorate General of Foreign Trade (DGFT) justified the ban by giving reasons that soaring global wheat prices have put pressure on food security, not only in India, but also in neighbouring and vulnerable nations.
However, export will be allowed on the basis of permission granted by the Government of India to other countries to meet their food security needs and based on the request of their governments.
The ban was also prompted decrease in wheat production, after its production was affected by a heatwave that swept across the country during March-April, while the Food Corporation of India (FCI) was unable to mop up ample stocks for buffer stocks.
The rising inflation also prompted this step.
The WholeSale Price Index (WPI) in India has moved up from 2.26 per cent at the start of 2022 to 14.55 now. Retail inflation, too, hit an eight-year high of 7.79 per cent in April, driven by rising food and fuel prices.