C-130J Super Hercules : Succesfully Landed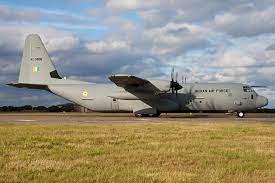 The Indian Air Force (IAF) successfully landed two of its C-130J-30 'Super Hercules' military transport aircraft at a rudimentary and unfeasible airstrip in Uttarakhand
C-130J Super Hercules is a four-engine turboprop military transport aircraft.
It is the latest production version of the C-130 Hercules. It replaced, in production, the previous C-130H.
The C-130J Super Hercules made its first flight in 1996.
It is the US Air Force's principal tactical cargo and personnel transport aircraft.
It was developed by Lockheed Martin, a US security and aerospace company.
It primarily performs the tactical portion of the airlift mission, is capable of operating from rough, dirt strips, and is the prime transport for airdropping troops and equipment into hostile areas.
The largest operators are the US Air Force, US Marine Corps, Australia, Canada, India, Italy, and the United Kingdom.
It has reduced crew requirements. A minimal crew of three men is required to operate this aircraft, including two pilots and one loadmaster.
It is powered by four Rolls-Royce AE 2100D3 turboprop engines.
It has digital avionics, including a Head-Up Display (HUD) for each pilot.
Range: 6,852 km (no payload)
Speed: 644 km/hr
It is capable of short takeoffs and landings from unprepared runways.
C-130J-30 is a stretch version of the C-130J.
The C-130J-30 adds 15 feet to the fuselage, increasing usable space (two more pallets of equipment) in the cargo compartment.