F/A 18 Super Hornet Fighter Jets: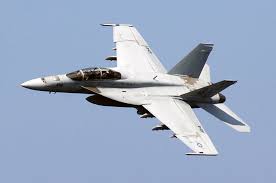 Ahead of Commissioning India's first Indigenous Aircraft Carrier (IAC) Vikrant, the US aviation major Boeing has proposed Indian Navy to choose its F/A 18 Super Hornet fighter jet.
The F/A-18 Super Hornet Block III is the world's most advanced, combat proven, multi-role frontline naval fighter that offers unique and differentiated capabilities and full compatibility with Indian Navy carriers.
It has been designed and built for carrier operations, and is fully compliant with INS Vikramaditya and INS Vikrant aircraft carrier.
F/A-18 will be able to operate on the deck, in the hangar and on the lifts of the Indian Navy's aircraft carriers.
It will help further the interface between manned and unmanned systems in a carrier environment.
The Super Hornet's Precision Landing Mode software is specially designed to reduce pilot workload while landing on the Indian Navy's Vikramaditya carrier by maintaining the proper glide slope and proper approach speeds.
It has fully redundant systems and is independent of the carrier's optical landing system.
F/A-18 Super Hornet is in single-seater (E-Variant) and two-seater variant (F-Variant), and both variants are carrier compatible to perform the full range of combat missions and can fully operate from the carrier deck.
The two-seater is also a capable trainer aircraft – both ashore and carrier borne.