New Pamban Bridge : Likely To Be Inaugurated By The Prime Minister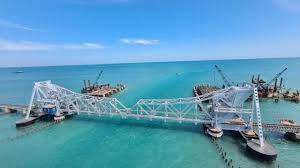 The new Pamban Bridge is likely to be inaugurated by the Prime Minister in a few months.
New Pamban Bridge is India's first vertical-lift railway sea bridge.
It connects Rameswaram on Pamban Island to Mandapam on the mainland in Tamil Nadu.
The total length of the bridge is 078 km.
It will have 99 spans with 18.3-meter-long girders. The navigational span will be 63 metres.
It will replace the iconic Pamban Bridge, India's first sea bridge, which opened in 1914.
The new bridge is being built parallel to the old Pamban Bridge by Rail Vikas Nigam Limited.
The most unique feature of the new Pamban Bridge is its vertical lift facility. It will help boats pass under the bridge smoothly.