Carbon Footprint Of Marine Fisheries : Lower Than Global Average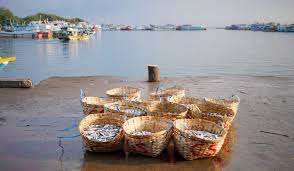 According to Central Marine Fisheries Research Institute (CMFRI), India's marine fisheries produced 1.32 tonnes of carbon dioxide (CO2) to produce one kilogram of fish in 2016 during entire value chain (from the construction of boats to retail) lower than the global average of 2 tonnes.
The findings were discussed at a review meeting of the fisheries component of the National Innovations in Climate Resilient Agriculture (NICRA), a research project launched in 2011.
Active fishing consumes more than 90% of the fuel used in the sector, contributing 4,934 million kilograms of CO2 emissions annually.
The country's carbon emissions from the marine mechanized fisheries sector is 16.3%, lower than the global level.
While the use of fossil fuels has increased the availability of fish to fisheries, the dependence of the fishing sector on fossil fuels raises concerns related to climate change.
The carbon footprint from Indian marine fisheries is smaller because they depend largely on human force.
Large mechanised fishing boats were introduced in India in the late 1950s, but the fleet size is growing. Their number increased to 72,559 in 2010 from 6,708 in 1961.