Special Marriage Act: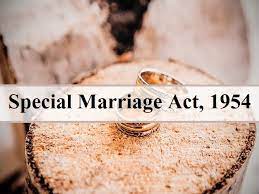 Several interfaith couples including some celebrities chose to marry under a secular personal law i.e. through the Special Marriage Act, of 1954.
The Special Marriage Act of 1954 (SMA) was passed by Parliament on October 9, 1954.
It governs a civil marriage where the state sanctions the marriage rather than the religion.
SMA enables marriage between inter-faith or inter-caste couples without them giving up their religious identity or resorting to conversion.
The applicability of the Act extends to the people of all faiths, including Hindus, Muslims, Sikhs, Christians, Sikhs, Jains, and Buddhists, across India.
The minimum age to get married under the SMA is 21 years for males and 18 years for females.
As per Section 5 of the Act, the parties to the marriage are required to give a notice, in writing, to a "Marriage Officer" of the district in which at least one of the parties has resided for at least 30 days immediately preceding the notice.
The parties and three witnesses are required to sign a declaration form before the Marriage Officer.
Once the declaration is accepted, the parties will be given a "Certificate of marriage" which is essentially proof of the marriage.