Rice Bran Oil: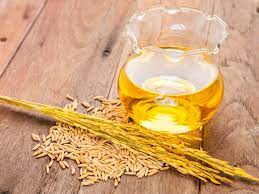 Department of Food and Public Distribution E-launched "NAFED Fortified Rice Bran Oil".
Rice bran oil is the oil extracted from the hard outer brown layer of rice called chaff (rice husk). It is known for its high smoke point of 232 °C (450 °F) making it suitable for high-temperature cooking methods such as stir frying and deep frying.
Rice bran oil has a composition similar to that of peanut oil.
Rice Bran oil has multiple health benefits, including lowering cholesterol level due to its low trans-fat content and high mono unsaturated and poly unsaturated fat contents. It also acts as a booster and reduces the risk of cancer due to the high amount of Vitamin E it contains.
This oil is recommended by the World Health Organization (WHO) as one of the best substitutes for other edible oils.
NAFED:
National Agricultural Cooperative Marketing Federation of India Ltd (NAFED) is an apex organization of marketing cooperatives for agricultural produce in India.
It was founded on 2 October 1958.
It is registered under Multi State Co-operative Societies Act.
It is Headquartered in New Delhi.