Motion Of Thanks: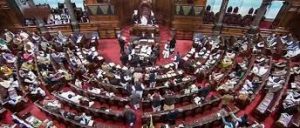 As many as 50 speakers from 25 political parties participated in the debate in Rajya Sabha on the Motion of Thanks lasting over three days.
The President makes an address to a joint sitting of Parliament at the start of the Budget session, which is prepared by the government and lists its achievements.
The address is followed by a motion of thanks moved in each House by ruling party MPs. During the session, political parties discuss the motion of thanks also suggesting amendments.
Notices of amendments to Motion of Thanks on the President's Address can be tabled after the President has delivered his Address.
Amendments may refer to matters contained in the Address as well as to matters, in the opinion of the member, the Address has failed to mention.
Amendments can be moved to the Motion of Thanks in such form as may be considered appropriate by the Speaker.
The only limitations are that members cannot refer to matters which are not the direct responsibility of the Central Government and that the name of the President cannot be brought in during the debate since the Government and not the President is responsible for the contents of the Address.
Provisions governing them:
President's Address and Motion of Thanks are governed by Articles 86 (1) and 87 (1) of the Constitution and Rules 16 to 24 of the Rules of Procedure and Conduct of Business in Lok Sabha.