Challenge On Delimitation Commission: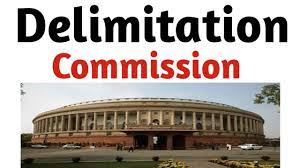 A plea has been moved in the Supreme Court by two Kashmir residents challenging the Centre's decision to constitute the delimitation commission for redrawing the assembly and Lok Sabha constituencies in Union Territory of Jammu and Kashmir.
The plea sought declaration that the increase of number of seats from 107 to 114 (including 24 seats in Pakistan Occupied Kashmir) in Jammu & Kashmir is Ultra vires the Constitutional Provisions such as Articles 14, 81, 82, 170, 330 and 332 and Statutory Provisions particularly under Section 63 of the Jammu & Kashmir Reorganisation Act, 2019.
The plea said that while Article 170 of the Constitution of India provides that the next delimitation in the country will be taken up after 2026.
On March 6, 2020, the Union Government, Ministry of Law and Justice (Legislative Department) had issued a notification in exercise of power under Section 3 of the Delimitation Act, 2002, constituting a Delimitation Commission, with former Supreme Court judge (Retd) Ranjana Prakash Desai as Chairperson, for the purpose of delimitation of Assembly and Parliamentary constituencies in the Union Territory of Jammu and Kashmir and the state of Assam, Arunachal Pradesh, Manipur and Nagaland, for a period of one year.
Constitutional Provisions:
Under Article 82, the Parliament enacts a Delimitation Act after every Census.
Under Article 170, States also get divided into territorial constituencies as per Delimitation Act after every Census.