Cheetah Reintroduction Project: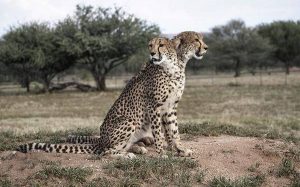 The Government is preparing to translocate the first batch of eight from South Africa and Namibia to Kuno National Park in Madhya Pradesh soon after the situation linked to the current third wave of Covid-19 becomes normal, and total 50 in various parks over a period of five years.
In this regard, the Union Minister for Environment, Forests and Climate Change has launched the 'Action Plan for Introduction of Cheetah in India' under which 50 of these big cats will be introduced in the next five years.
The action plan was launched at the 19th meeting of the National Tiger Conservation Authority (NTCA).
Reintroduction' of a species means releasing it in an area where it is capable of surviving.
Reintroductions of large carnivores have increasingly been recognised as a strategy to conserve threatened species and restore ecosystem functions.
The cheetah is the only large carnivore that has been extirpated, mainly by over-hunting in India in historical times.
India now has the economic ability to consider restoring its lost natural heritage for ethical as well as ecological reasons.
The cheetah, Acinonyx jubatus, is one of the oldest of the big cat species, with ancestors that can be traced back more than five million years to the Miocene era.
The cheetah is also the world's fastest land mammal.
It is listed as vulnerable in IUCN red listed species.