New Bridge: India & Nepal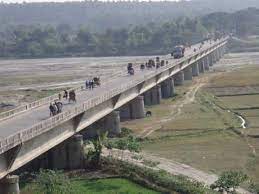 The Union Cabinet has cleared a plan to build a new bridge connecting India and Nepal over the Mahakali river and link Dharchula in Uttarakhand with Nepal's Dharchula.
The bridge will be completed within three years. It will strengthen the relationship between the two countries.
India and Nepal share unique ties of friendship and cooperation.
The construction of the bridge will help people living in Dharchula in Uttarakhand and in the territory of Nepal.
Mahakali River:
It is also known as Sharda river or Kali Ganga in Uttarakhand.
It joins Ghagra river in Uttar Pradesh, which is a tributary of Ganga.
River Projects: Tanakpur hydro-electric project, Chameliya hydro-electric project, Sharda Barrage.