China handed Over The First Type 054A/P Frigate (warship) To Pakistan: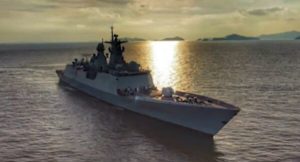 China handed over the first Type 054A/P frigate (warship) to Pakistan. It is named the PNS Tughril.
The PNS Tughril is the first hull of four Type 054 frigates being constructed for the Pakistan Navy.
The ship is a technologically advanced and highly capable platform with enormous surface-to-surface, surface-to-air and underwater firepower, besides extensive surveillance potentials.
This warship has world-class stealth capability and can easily dodge any radar.
It also has long-range missiles and a state-of-the-art cannon capable of firing multiple rounds in a minute.
The warship is fitted with a state-of-the-art Battle Management System (BMS), which will increase the fighting capability of the Pakistan Navy manifold.
BMS basically helps communicate between the radar and the interceptor missile.