China-Pakistan Economic Corridor (CPEC):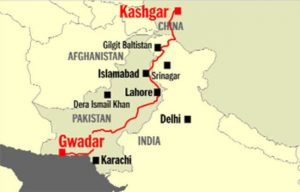 Pakistan's new government has initiated a process to abolish the China-Pakistan Economic Corridor Authority, with the planning minister saying it was a "redundant organisation" that wasted resources and thwarted speedy implementation of the ambitious regional connectivity programme.
CPEC Authority established through an ordinance in 2019 was aimed at accelerating the pace of CPEC-related activities, finding new drivers of growth, unlocking the potential of interlinked production networks and global value chains through regional and global connectivity.
CPEC launched in 2015, the CPEC is the flagship project of the multi-billion-dollar Belt and Road Initiative (BRI), a pet project of Chinese President Xi Jinping, aimed at enhancing Beijing's influence around the world through China-funded infrastructure projects.
The 3,000 km-long China–Pakistan Economic Corridor (CPEC) consists of highways, railways, and pipelines.
CPEC eventually aims at linking the city of Gwadar in South Western Pakistan to China's North Western region Xinjiang through a vast network of highways and railways.
The proposed project will be financed by heavily-subsidised loans, that will be disbursed to the Government of Pakistan by Chinese banks.