Cloudburst: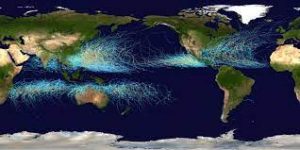 Over 20 people have been killed in the destruction caused by cloudbursts and flash floods in different parts of Himachal Pradesh and Uttarakhand recently.
A cloudburst is a localised but intense rainfall activity. Short spells of very heavy rainfall over a small geographical area can cause widespread destruction, especially in hilly regions where this phenomenon is the most common.
A cloudburst has a rainfall of 10 cm or more in an hour over a roughly 10 km x 10-km area is classified as a cloudburst event.
Cloudbursts are not uncommon events, particularly during the monsoon months.
Most of these happen in the Himalayan states where the local topology, wind systems, and temperature gradients between the lower and upper atmosphere facilitate the occurrence of such events.
Specific cloudburst events cannot be forecast.
No forecast ever mentions a possibility of a cloudburst.
But there are warnings for heavy to very heavy rainfall events, and these are routinely forecast four to five days in advance.