Collective Security Treaty Organisation: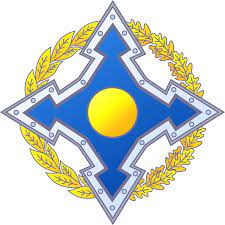 The Collective Security Treaty Organization (CSTO) has marked its 30th year, at anniversary summit hosted by Moscow recently.
Collective Security Treaty Organization is an intergovernmental military alliance (six countries) that came into effect in 2002.
Its origin can be traced to the Collective Security Treaty, 1992 (Tashkent Treaty).
The headquarters is located in the Russian capital of Moscow.
The objectives of the CSTO is to strengthen peace, international and regional security including cybersecurity and stability, the protection on a collective basis of the independence, territorial integrity and sovereignty of the member states.
Current CSTO members are Armenia, Belarus, Kazakhstan, Kyrgyzstan, the Russian Federation and Tajikistan.
CSTO membership means that member states are barred from joining other military alliances, limiting, for example, their relationship with NATO.
Most importantly, membership presumes certain key security assurances – the most significant of which is deterring military aggression by third countries.
In the CSTO, aggression against one signatory is perceived as aggression against all.
It however remains unclear whether this feature works in practice.