The Collective Security Treaty Organization (CSTO):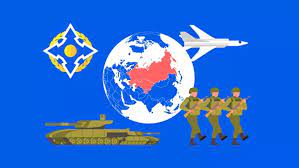 A Moscow-led military alliance dispatched troops to help quell mounting unrest in Kazakhstan as the police said dozens were killed trying to storm government buildings.
Long seen as one the most stable of the ex-Soviet republics of Central Asia, energy-rich Kazakhstan is facing its biggest crisis in decades after days of protests over rising fuel prices escalated into widespread unrest.
Under increasing pressure, President Kassym-Jomart Tokayev appealed overnight to the Russia-domina- ted Collective Security Treaty Organisation (CSTO), which includes five other ex-Soviet states, to combat what he called "terrorist groups" that had "received extensive training abroad".
The Collective Security Treaty Organization (CSTO) is an intergovernmental military alliance in Eurasia that consists of select post-Soviet states.
Membership: Armenia, Belarus, Kazakhstan, Kyrgyzstan, Russia and Tajikistan.
Headquarters: Moscow, Russia.