Concerns Over Invasive Mussel Species: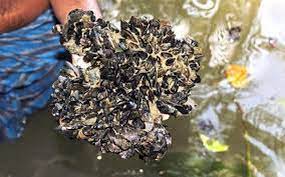 Fishermen of Pulicat and Ennore are raised concerns over the spread of an invasive species of mussel that is a threat to the prawns of both waterbodies.
The marine biologists identified these species as Mytella strigata or Charru mussels which are Native to South America.
These mussels have invaded tidal wetlands in several parts of the world, including Vembanad in Kerala.
This is spreading due to the discharge of ballast waters from ships visiting the ports of Kattupalli.
After Cyclone Vardah in December 2016, the mussels began to intensify and spread far north towards the Pulicat waters.
Human interference in the wetlands, pollution and nature's actions have triggered the rapid spread of the species.
These mussels spread like a carpet over the river bottoms and thus preventing prawns from grazing or burying themselves in the sediment.
Its spread is wiping out the locally prevalent yellow clams and green mussels.