Consent Of AG On Contempt Proceedings: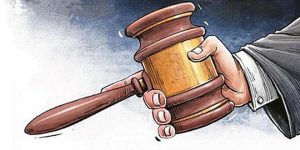 The Attorney General for India KK Venugopal recently declined to grant consent to initiate criminal contempt proceedings against the National President of Azad Samaj Party, Chandra Shekhar Azad for his comments levelling allegations against the judges of the Supreme Court.
The AG was considering a request to grant consent under Section 15(1)(b) of the Contempt of Courts Act, 1971 to initiate contempt proceedings against Azad.
The Contempt of Courts Act 1971 defines civil and criminal contempt, and lays down the powers and procedures by which courts can penalise contempt, as well as the penalties that can be given for the offence of contempt.
Contempt of court is the offense of being disobedient to or disrespectful toward a court of law and its officers in the form of behavior that opposes or defies the authority, justice and dignity of the court.
The objective behind requiring the consent of the Attorney General before taking cognizance of a complaint is to save the time of the court.
This is necessary because judicial time is squandered if frivolous petitions are made and the court is the first forum for bringing them in.
The AG's consent is meant to be a safeguard against frivolous petitions, as it is deemed that the AG, as an officer of the court, will independently ascertain whether the complaint is indeed valid.
The AG's consent is mandatory when a private citizen wants to initiate a case of contempt of court against a person.
However, when the court itself initiates a contempt of court case the AG's consent is not required.
This is because the court is exercising its inherent powers under the Constitution to punish for contempt and such Constitutional powers cannot be restricted because the AG declined to grant consent.