Arbitration And Conciliation (Amendment) Bill 2021: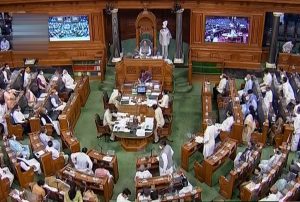 Lok Sabha today gave its nod to Arbitration and Conciliation (Amendment) Bill 2021
The Arbitration and Conciliation (Amendment) Bill, 2021 was introduced in Lok Sabha on February 4, 2021.
It seeks to amend the Arbitration and Conciliation Act, 1996.
The Act contains provisions to deal with domestic and international arbitration and defines the law for conducting conciliation proceedings.
The Bill replaces an Ordinance with the same provisions promulgated on November 4, 2020.
The Bill specifies that a stay on the arbitral award can be provided (even during the pendency of the setting aside of the application) if the court is satisfied that:

the relevant arbitration agreement or contract, or
the making of the award was induced, or affected by fraud or corruption.

This change will be effective from October 23, 2015.
The Bill removes the Schedule for arbitrators and states that the qualifications, experience, and norms for accreditation of arbitrations will be specified under the regulations.