Death By Hunger: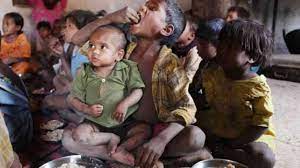 The Union government informed the Supreme Court (SC) that no starvation death (Death by Hunger) has been reported by any state or Union territory (UT) in recent years.
The court is hearing a petition that highlights how starvation deaths continue to eat into the right to life and dignity of social fabric and a "radical" new measure like community kitchens need to be set up across the country to feed the poor and the hungry.
The petition also referred to Rajasthan's Annapurna Rasoi, Indira Canteens in Karnataka, Delhi's Aam Aadmi Canteen, Anna Canteen of Andhra Pradesh, Jharkhand Mukhyamantri Dal Bhat and Odisha's Ahaar Centre.
The SC asked the Centre to explore the possibility of a "model" community kitchen scheme by which it could support the States to ensure food security for the poor.
It asked the Centre to make a model scheme and leave it to the States to follow the guidelines depending on their individual food habits.
Called for the creation of a national food grid by the Centre which is beyond the scope of the Public Distribution Scheme.