Core Sectors: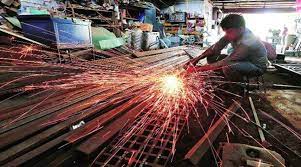 India's eight core sectors' output growth moderated to 12.7% in June, 2022 from 18.1% in May, 2022 with all sectors except crude oil registering an uptick in production.
Eight Core Sectors:
Coal, Crude Oil, Natural Gas, Refinery Products, Fertiliser, Steel, Cement, Electricity
These comprise 40.27% of the weight of items included in the Index of Industrial Production (IIP).
The eight core sector industries in decreasing order of their weightage:
Refinery Products> Electricity> Steel> Coal> Crude Oil> Natural Gas> Cement> Fertilizers.
Index of Industrial Production:
IIP is an indicator that measures the changes in the volume of production of industrial products during a given period.
It is compiled and published monthly by the Central Statistical Organization (CSO), Ministry of Statistics and Programme Implementation.
It is a composite indicator that measures the growth rate of industry groups classified under:
Broad sectors:

Mining, Manufacturing, and Electricity.

Use-based sectors:

Basic Goods, Capital Goods, and Intermediate Goods.

Base Year for IIP is 2011-2012.