Covid-19: Make It The Last Pandemic: IPPPR: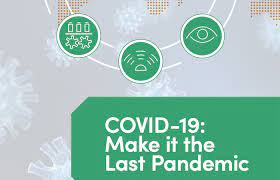 An independent global panel, the Independent Panel for Pandemic Preparedness and Response (IPPPR) in its report named "Covid-19: Make it the Last Pandemic concluded that the catastrophic scale of the Covid-19 pandemic could have been prevented.
The report was requested by World Health Organization (WHO) member states in May 2020.
Reasons for Inflated Covid Catastrophe:
Bad Decisions:

A series of bad decisions meant Covid-19 went on to kill at least 3.3 million people so far and devastate the global economy.
Poor strategic choices, unwillingness to tackle inequalities and an uncoordinated system created a toxic cocktail which allowed the pandemic to turn into a catastrophic human crisis.

Failure of Institutions:

Institutions failed to protect people and science-denying leaders eroded public trust in health interventions.
The threat of a pandemic had been overlooked and countries were woefully unprepared to deal with one.

Lack of Urgency:

Early responses to the outbreak detected in Wuhan, China in December 2019 lacked urgency, with February 2020 a costly "lost month" as countries failed to heed the alarm.

Delay:

The emergence of Covid-19 was characterized by a mixture of some early and rapid action, but also by delay, hesitation, and denial.
WHO could have declared the situation a Public Health Emergency of International Concern (PHEIC), its highest level of alarm in January 2020.