Cyclone Biporjoy: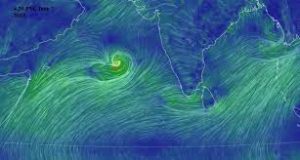 Cyclonic Storm "Biporjoy" intensifies in the Arabian Sea, posing significant risks and uncertainties for the affected regions.
The India Meteorological Department (IMD) reports the storm's rapid development, expecting it to strengthen into a severe cyclonic storm with winds reaching 115-125 kmph and gusts of 140 kmph on June 8, 2023.
The name 'Biparjoy' meaning calamity or disaster was given by Bangladesh.
The formation of Cyclone "Biporjoy" in June is unusual, and the increasing sea surface temperatures in the Arabian Sea, attributed to climate change, play a significant role. These higher temperatures, reaching 30-32 degrees Celsius, favour the intensification of cyclones.
The cyclonic system also poses a threat to the southwest monsoon in India, hindering its arrival and progression.
By diverting moisture away from India, the storm could further delay the monsoon onset.
Climate scientists point out the potential influence of long-term Indian Ocean warming and the developing El Nino, both of which can weaken the monsoon.