Dal Lake : Thousand Of fish Died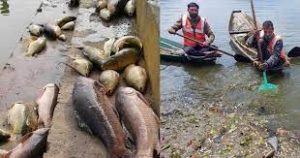 Thousands of fish in the Dal Lake have died over the past few days with authorities blaming a sudden fluctuation in temperature in the region.
Dal Lake is a lake in Srinagar, the summer capital of Jammu and Kashmir.
It is surrounded by the Pir Panjal mountains.
It is integral to tourism and recreation in Kashmir and is named the "Jewel in the crown of Kashmir" or "Srinagar's Jewel".
Spread across an area of around 26 square kilometers, it is the second-largest lake in Jammu & Kashmir.
The shore line of the lake, is about 15.5 kilometres (9.6 mi), is encompassed by a boulevard lined with Mughal era gardens, parks, houseboats and hotels.
During the winter season, the temperature sometimes reaches −11 °C (12 °F), freezing the lake.
The lake is part of a natural wetland which covers 21.1 square kilometres (8.1 sq mi), including its floating gardens.
The floating gardens, known as "Raad" in Kashmiri, blossom with lotus flowers during July and August.