Daily Current Affairs for Government Exams:
Today Current Affairs: 9th December 2020 for UPSC IAS exams, State PSC exams, SSC CGL, State SSC, RRB, Railways, Banking Exam & IBPS, etc
Contents:
Elevation of Mount Everest
Eluru mystery disease:
U. S. Commission on International Religious Freedom (USCIRF)
SAARC Charter Day
Emergency Use Approval: Covid-19 Vaccines
Other important current affairs:
1.Elevation of Mount Everest: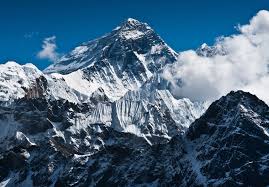 Nepal and China have announced the revised height of Mount Everest as 8,848.86 meters. The new height is 86 cm more than the previous measurement.
The new height of 8,848.86 meters replaced the long-associated 8,848 meter-height, which was, as per a measurement carried out by the Survey of India in 1954.
The common declaration meant that the two countries have shed their long-standing difference in opinion about the mountain's height — 8,844 m claimed by China and 8,847 m by Nepal.
Resolving the three-meter difference, attributed to China calculating the "rock height" underneath the snow and Nepal using the "snow height" which included the snowcap, was the aim of a joint project.
Everest is also known as Sagarmatha in Nepal and Mount Qomolangma in China.
The mountain lies on the border between Nepal and Tibet and the summit can be accessed from both sides.
It gets its English name from Sir George Everest, a colonial-era geographer who served as the Surveyor General of India in the mid-19th century.
It was first scaled in 1953 by the Indian-Nepalese Tenzing Norgay and New Zealander Edmund Hillary.
First Survey of Everest:
The first effort was carried out in 1847 by a team led by Andrew Waugh, Surveyor General of India.
The survey was based on trigonometric calculations and is known as the Great Trigonometric Survey of India.
The team discovered that 'Peak 15' (as Mount Everest was referred to then) was the highest mountain, contrary to the then-prevailing belief that Mount Kanchenjunga (8,582 m and the 3rd highest peak in the world now) was the highest peak in the world.
2.Eluru mystery disease: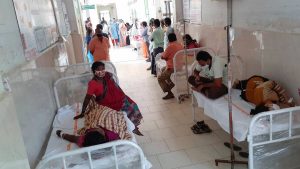 At least 550 people fell sick in Eluru town in Andhra Pradesh since Saturday evening due to an undiagnosed illness.
Following this, the AIIMS team conducted the blood tests.
The results indicate lead and nickel content in drinking water or/and milk as the possible reason behind people falling ill.
Some of these people complained of seizures, anxiety, vomiting, and headache. So far, the illness has not spread from one to another person.
The presence of the chemicals in the blood samples was very less as the patients were recovering fast.
If the quantity of the toxins was high or spread through the air, it would affect the neurological system.
General factors contributing to lead poisoning:

Informal and substandard recycling of lead-acid batteries.
Increase in vehicle ownership, combined with the lack of vehicle battery recycling regulation and infrastructure.
Workers in dangerous and often illegal recycling operations break open battery cases, spill acid and lead dust in the soil.
They also smelt the recovered lead in crude, open-air furnaces that emit toxic fumes poisoning the surrounding community.
3.U. S. Commission on International Religious Freedom (USCIRF):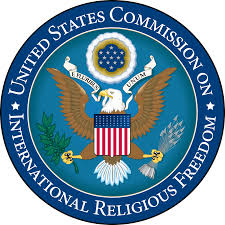 The US State Department has placed various countries in different lists pursuant to the International Religious Freedom Act (IRFA).
Pakistan and China among eight other countries that are of particular concern (CPC) for violation of religious freedom. Others include- Myanmar, Eritrea, Iran, Nigeria, North Korea, Saudi Arabia, Tajikistan, and Turkmenistan.
Comoros, Cuba, Nicaragua and Russia on a Special Watch List (SWL) for governments that have engaged in or tolerated severe violations of religious freedom.
Al-Shabaab, al-Qaida, Boko Haram, Hayat Tahrir al-Sham, the Houthis, ISIS, ISIS-Greater Sahara, ISIS-West Africa, Jamaat Nasr al-Islam wal Muslimin and the Taliban are 'Entities of Particular Concern'.
Notably, the State Department did not accept the USCIRF recommendation that India, Russia, Syria and Vietnam be also designated as CPCs.
About USCIRF:
USCIRF is an independent, bipartisan, U.S. federal government commission created by the 1998 International Religious Freedom Act (IRFA) that monitors the universal right to freedom of religion or belief abroad.
USCIRF uses international standards to monitor religious freedom violations globally, and makes policy recommendations to the President, the Secretary of State, and Congress.
USCIRF is an independent, bipartisan federal government entity, while the Office of International Religious Freedom (IRF) — also established under IRFA—is part of the U.S. State Department.
Both USCIRF and the State Department release annual reports on international religious freedom, but each has different purposes.
The State Department's report documents religious freedom violations in every country in the world.
USCIRF's Annual Report, by statute, recommends countries to be designated as "countries of particular concern" which the Executive Branch must consider.
Article 18 of the Universal Declaration of Human Rights provides that "everyone has the right to freedom of thought, conscience and religion; this right includes freedom to change his religion or belief, and freedom, either alone or in community with others and in public or private, to manifest this religion or belief in teaching, practice, worship and observance."
4.SAARC Charter Day: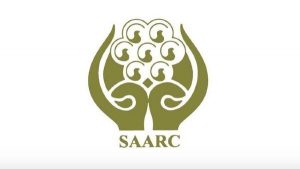 In a message to the South Asian Association for Regional Cooperation (SAARC) on its 36th Charter Day anniversary, the Prime Minister said that SAARC can only be fully effective in the absence of "terror and violence".
SAARC Charter Day is observed annually on 8th December. This day marks the signing of the SAARC Charter in 1985 by the leaders of SAARC Countries at the First SAARC Summit held in Dhaka (Bangladesh).
India's Stand:
The full potential of SAARC can only be realised in an atmosphere free of terror and violence.
This indicates that India's concerns over cross-border terrorism from Pakistan remain a primary obstacle in India's participation in the summit.
In their messages, both Pakistan and Nepal called for the SAARC summit to be held soon.
India also called for SAARC countries to "recommit to defeating the forces that support and nurture terrorism."
India is also committed to an "integrated, connected, secure and prosperous South Asia", and will support the economic, technological, cultural and social development of the region.
India referred to the example of the early coordination between SAARC countries for dealing with the Covid-19 pandemic.
An emergency Covid-19 fund was created with an initial contribution of USD 10 million from India.
Stalled SAARC Process: SAARC's functioning and activities have virtually stalled because of the strained relations between India and Pakistan.
Besides a virtual meeting in March on the Covid-19 situation, SAARC hasn't had any significant engagements since India pulled out of the summit that was to be held in Pakistan in 2016 in the aftermath of the Uri terror attack.
South Asian Association for Regional Cooperation:
Eight Member States: Afghanistan, Bangladesh, Bhutan, India, Maldives, Nepal, Pakistan, and Sri Lanka.
Secretariat: Kathmandu (Nepal).
Objective: To promote the welfare of the people of South Asia and to improve their quality of life, and to accelerate economic growth, among other things.
SAARC Summits:

These are usually held biennially and hosted by member states in alphabetical order.
The last SAARC Summit in 2014 was held in Kathmandu (Nepal), which was attended by India.
5.Emergency Use Approval: Covid-19 Vaccines: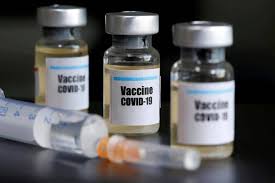 Three vaccine developers have made applications to the Central Drug Standard Control Organisation (CDSCO), seeking emergency use approval for their candidate Covid-19 vaccines.
The vaccine for which the developers are seeking approval are still under trial.
Candidates for Covid-19 vaccines:
COVISHIELD: By a Pune-based Serum Institute of India.

Phase-III trials going on.

COVAXIN: By Bharat Biotech, a Hyderabad-based company.

Phase-III trials going on.

BNT162b2: By US pharmaceutical major Pfizer in collaboration with BioNTech.

No trials in India so far.
Regulatory Provisions for Approval of Vaccines in India:
Clinical trials of new drugs and vaccines, and their approvals, are governed by the Drugs and Clinical Trials Rules, 2019.
Emergency Provisions:
There is nothing such as emergency use approval in Indian rules, however the 2019 rules provide for "Accelerated Approval Process" in several situations that would include the one like the current pandemic.
In such situations, there is a provision for granting approval to a drug that is still in clinical trials provided the product is of meaningful therapeutic benefit.
Accelerated approval may also be granted to a new drug if it is intended for the treatment of a serious, or life-threatening condition, or disease of special relevance to the country, and addresses unmet medical needs.
A new drug, or a vaccine, can be considered for approval if remarkable effectiveness is reported even from phase-II trials.
In such cases, additional post-licensure studies may be required.
The approval granted to drugs or vaccines that are still in clinical trials is temporary, and valid only for one year.
Other important current affairs:
1.The Supreme Court has orally said it would not pass any order that would risk the economy going "haywire".
The Supreme Court is hearing the government's response to separate pleas made by industry, real estate and power sectors, and others for debt relief, including waiver of interest, during the moratorium.
The Court said this after the Union government revealed that a blanket waiver of interest on debts incurred by all classes and categories of borrowers for the moratorium period would mean forgoing an estimated over ₹6 lakh crore.
A possible crippling of the banking sector was one of the main reasons for "not even contemplating waiver interest" and restricting relief to "deferment of payment of instalments".
For every loan account, there were about 8.5 deposit accounts in the Indian banking system. Therefore, the government cannot do anything which would topple the economic scenario.
2.The Ministry of Railways has written to the Department for Promotion of Industry & Internal Trade (DPIIT) seeking exemption for procuring certain medical items manufactured outside India, particularly medicines used in the treatment of COVID-19 and cancer.
In the existing 'Make in India' policy, there is no window available to procure such items from the suppliers who may not meet the Local Content Criteria required for Class-I and Class-II Local Supplier category.
Class-I is a local supplier or service provider whose goods, services or works offered for procurement have local content equal to or more than 50%.
Class-II is a supplier or service provider whose goods, services, or works offered for procurement have local content of more than 20% but less than 50%.
Only these two categories of suppliers shall be eligible to bid in the procurement of all goods, services or works and with an estimated value of purchases of less than ₹200 crores.
Certain drugs used in cancer treatment were manufactured outside India but available in the Indian market through agents or dealers.
Without meeting the prescribed requirements, items cannot be procured from such agents.
3.The cyber wing of the Maharashtra Police recently acquired software from Interpol that would help them track down child pornography uploaded online.
The Interpol has software that uses various mechanisms like detecting nudity in images, recognising age of the person through facial structures, among other filters.
It has in-built algorithms to look for keywords around child pornography that would for example help law enforcement agencies track forums that indulge in these crimes.
Based on these filters, the software 'crawler' scans the net looking for such images, videos and text. If they find any such media, it is added to the database after which officers identify cases that could fall under child pornography.
TRACE team set up by Maharashtra Cyber to counter child pornography:

12 officers from state went for training to the South Asian wing of Interpol. They form the core of Tactical Response against Cyber Child Exploitation (TRACE) Unit.
The TRACE unit was primarily set up to act against child pornography in Maharashtra that is part of a larger campaign against Child Sexual Abuse Material (CSAM) across the country since 2019.
4.Sri Lanka has announced the first large-scale Chinese investment in manufacturing in the country, a $300-million tyre factory near a strategic deep-sea port.
The factory will be adjacent to the Hambantota port, which was leased to a Chinese company in 2017 after Sri Lanka failed to service the $1.4-billion debt from Beijing used to build it.
Western nations, as well as regional power India, have long been concerned about Chinese influence in Sri Lanka through projects under its gargantuan Belt and Road infrastructure initiative.
5.Following Brexit, Northern Ireland's 310-mile border with the Republic of Ireland is the only land border between the UK and the European Union (EU).
Under an arrangement known as the Northern Ireland protocol, goods will not need to be checked along the Irish border when the new UK-EU relationship begins on 1 January.
6.The Supreme Court (SC) has upheld notifications issued under the National Highways Act, 1956, for acquisition of land for construction of the Chennai-Krishnagiri-Salem national highway.
The verdict came on a batch of appeals filed by the Centre and the National Highways Authority of India (NHAI) and few landowners and others. These pleas were filed against the Madras High Court's judgement, holding as "illegal and bad in law" the notifications issued.
Chennai-Krishnagiri-Salem National Highway:

It is a part of the first phase of the 'Bharatmala Pariyojna' project.
Bharatmala Pariyojna Project stretches across 24,800 km and has an estimated outlay of Rs. 5.35 lakh crore.
It seeks to improve the efficiency of freight and passenger movement across the country by bridging critical infrastructure gaps.
It is a 277.3-km-long eight-lane greenfield project which aims to cut travel time between the two cities Chennai and Salem by half to about two hours and 15 minutes.

A greenfield project is one which is not constrained by prior work. It is constructed on unused land where there is no need to remodel or demolish an existing structure.
The Project has faced opposition from locals, including farmers, over fears of losing their land, besides environmentalists, who are against felling of trees. It runs through reserve forest and water bodies.
7.Entire Lakshadweep group of islands has been declared as an organic agricultural area under the Participatory Guarantee System (PGS) of India.
Lakshadweep is the first Union Territory to become 100% organic as all farming is carried out without the use of synthetic fertilisers and pesticides, providing access to safer food choices and making agriculture a more environmentally-friendly activity.
Earlier in 2016, Sikkim became India's first "100 percent organic" State.
The entire 32 square kilometres geographical land area of the UT was declared as organic after receiving required certifications and declarations under the Centre's Paramparagat Krishi Vikas Yojana (organic farming improvement program).
Earlier, the UT administration had imposed a formal uniform ban on sale, use and entry of synthetic chemicals for agriculture purposes from October 2017 onwards to make the islands a chemical-free zone.