Data On Fatalities Caused Due To Hydro-Meteorological Calamities: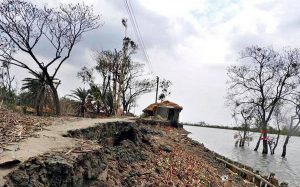 The Union Home Ministry has released data on fatalities caused due to hydro-meteorological calamities.
Hydro-meteorological calamities and hazards include flash floods, cloudburst and landslides
Highlights:
Nearly 6,800 people lost their lives in the country over the past three years due to hydro-meteorological calamities.
West Bengal has recorded the highest deaths among all States.
The causes for these calamities include extreme rainfall events or cloudbursts.
These types of fatal landslip events are common almost every year, mainly in the Himalayan States, in the Western Ghats, and Konkan areas.
In terms of funds released by the Centre under State Disaster Response Funds, highest funds were allocated to Maharashtra.
Over the past three years, West Bengal had braved four tropical cyclones — Fani (May 2019), Bulbul (November 2019), Amphan (May 2020) and Yaas (May 2021).
Under the Disaster Management Act, States were empowered to take action to prevent deaths due to natural calamities.