New Data About Venus: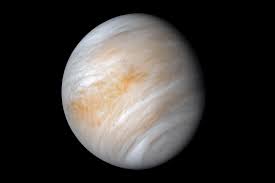 Scientists have obtained new data about Venus by bouncing radio waves off Venus.
The researchers transmitted radio waves toward Venus 21 times from 2006 to 2020 from NASA's Goldstone Antenna in the Mojave Desert of California and studied the radio-echo, which provided information on certain planetary traits.
Latest findings:
The study measured the tilt of the Venusian axis and the size of the planet's core.
A single Venusian rotation takes 243.0226 Earth days.
That means a day lasts longer than a year on Venus, which makes a complete orbit around the sun in 225 Earth days.
The Venusian planetary core has a diameter of about 4,360 miles (7,000 km), comparable to Earth's core.
The study calculated the Venusian tilt at about 2.64 degrees. Earth's is about 23.5 degrees.