Delegation Of Financial Powers To Defence Services (DFPDS), 2021 Rules.: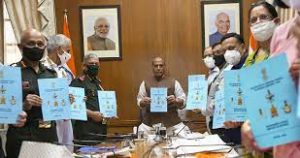 The Ministry of Defence has released the Delegation of Financial Powers to Defence Services (DFPDS), 2021 rules.
The primary focus of the enhanced delegation of financial powers is to overcome procedural delays, bring about greater decentralisation and operational efficiency.
The DFPDS 2021 rules is another big step in defence reforms to strengthen security infrastructure.
Key Highlights of DFPDS 2021:
Financial Powers Devolved to Field Formations:
Enhanced the delegation of revenue procurement powers for the Army, Navy and Air Force.
10% increase in Delegated Financial Powers of Vice Chiefs of Services.
Financial powers have also been delegated to new officers among the services, depending on requirements.
Focus on Operational Preparedness:
Under the new rules, critical equipment can be hired for short periods as compared to purchases or a long-term lease, which are not only considerably expensive but also take a long time.
Enhanced delegation of financial powers is to empower Field Commanders and below to procure equipment/war-like stores in a speedy manner for urgent operational necessities and meeting essential sustenance requirements.
Promoting Ease of Doing Business:
Up to three times increase in funding related to Indigenisation/R&D to achieve 'Atmanirbhar Bharat'.