Delimitation Exercise Has Started In Jammu And Kashmir (J&K):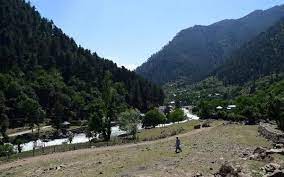 The completion of the delimitation exercise will mark the political process in the Union Territory (UT) that has been under Centre's rule since June 2018.
The delimitation exercise in J&K in the past has been slightly different from those in the rest of the country because of the region's special status.
The delimitation of Lok Sabha seats was then governed by the Indian Constitution in J&K, but the delimitation of Assembly seats was governed separately by the Jammu and Kashmir Constitution and Jammu and Kashmir Representation of the People Act, 1957.
However, Jammu and Kashmir lost its special status and was divided into two Union Territories (J&K and Ladakh) after the abrogation of its special status under Article 370, on 5th August, 2019.
Following this, a special delimitation commission was constituted on 6th March, 2020 to carve out Assembly and Parliament seats in the UT.
Delimitation:
Delimitation is the act of fixing or redrawing the limits or boundaries of territorial constituencies (Assembly or Lok Sabha seat) in a country or a province having a legislative body, as per the Election Commission.
The delimitation exercise is carried out by an independent high-powered panel known as the Delimitation Commission whose orders have the force of law and cannot be questioned by any court.
The exercise has been carried out over the years to redefine the area of a constituency-based on its population size (based on the last Census).
Aside from changing the limits of a constituency, the process may result in change in the number of seats in a state.
This exercise also involves reservation of Assembly seats for Scheduled Castes (SCs) and Scheduled Tribes (STs) in accordance with the Constitution.
Aim: The key aim is to have equal representation to equal segments of the population in order to ensure a fair division of geographical areas so that all political parties or candidates contesting elections have a level playing field in terms of a number of voters.