Daily Current Affairs for Government Exams:
Today Current Affairs: 1st October 2020 for UPSC IAS exams, State PSC exams, SSC CGL, State SSC, RRB, Railways, Banking Exam & IBPS, etc
Contents:
NCRB Report on crimes:
Ambedkar Social Innovation and Incubation Mission :
Government borrowing:
Zombie fires:
Other important current affairs
1.NCRB Report on crimes: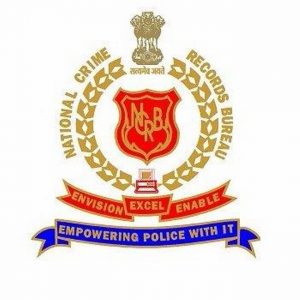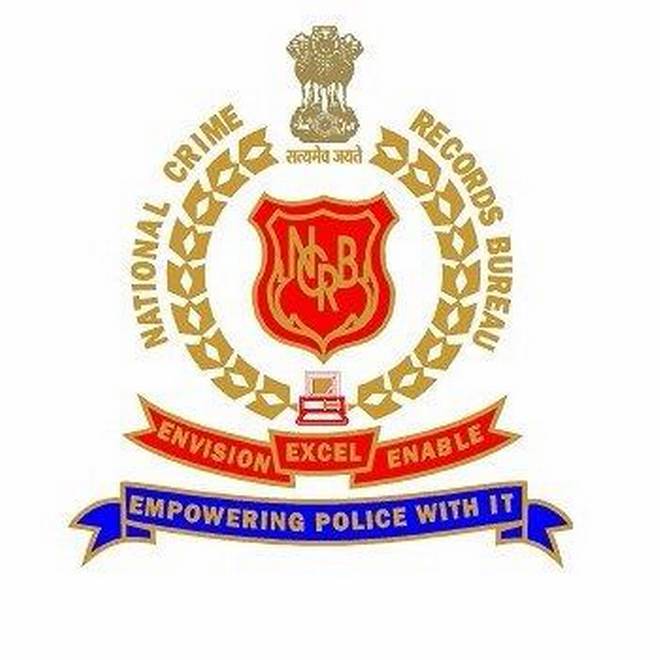 The National Crime Records Bureau (NCRB) has released the annual Crime in India 2019 report.
It reports an increase in crimes against Scheduled Castes (SCs) and Scheduled Tribes (STs) in the year 2019 as compared to the year 2018.
Key Points
Crimes against SCs and STs:
Crime against SCs has increased by over 7% and crimes against STs have increased by 26% in year 2019 compared to 2018.
Uttar Pradesh recorded the highest number of crimes against SCs in 2019, followed by Rajasthan and Bihar.
Madhya Pradesh recorded the highest number of cases against STs, followed by Rajasthan, and Odisha.
Categories: Crimes against SCs and STs include the following categories:
Data on Other Crimes
Cognizable Crimes: An increase of 1.6% in the registration of cognizable crimes in 2019 as compared to 2018 was recorded. Cognizable crimes comprise the Indian Penal Code (IPC) ones and Special and Local Laws (SLL) crimes.

Cognizable offence means an offence in which a police officer has the authority to make an arrest without a warrant.
SLL are Acts that are framed by the state government for specific issues.

Crimes Against Women: Crime against women showed an increase of 7.3% in 2019 from 2018.
88 cases of crimes against women were recorded per day.

The majority of cases under crime against women under IPC were registered under cruelty by husband or his relatives (30.9%), followed by assault on women with intent to outrage her modesty, kidnapping & abduction of women and rape .
In the number of cases of rape of women belonging to SCs, Rajasthan topped the list, followed by Uttar Pradesh and Madhya Pradesh.

Cybercrimes: Increased by 63.5% in 2019.

60.4% of cybercrime cases registered were for the motive of fraud followed by sexual exploitation.
National Crime Record Bureau
NCRB, headquartered in New Delhi, was set-up in 1986 under the Ministry of Home Affairs to function as a repository of information on crime and criminals so as to assist the investigators in linking crime to the perpetrators.
It was set up based on the recommendations of the National Police Commission (1977-1981) and the MHA's Task Force (1985).
NCRB brings out the annual comprehensive statistics of crime across the country ('Crime in India' report).
Being published in 1953, the report serves as a crucial tool in understanding the law and order situation across the country.
2.Ambedkar Social Innovation and Incubation Mission :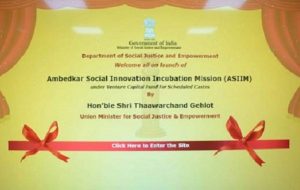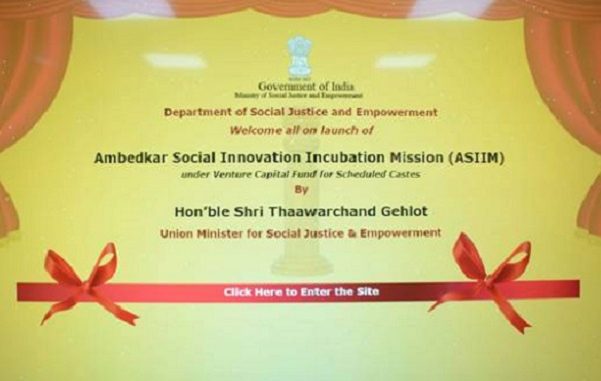 Union Social Justice Minister launched the Ambedkar Social Innovation and Incubation Mission under Venture Capital Fund for SCs, with a view to promoting innovation and enterprise among SC students studying in higher educational institutions.
Venture Capital Fund for SCs:
The Social Justice Ministry had launched the Venture Capital Fund for SCs in 2014-15 with a view to developing entrepreneurship amongst the SC and Divyang youth and to enable them to become job-givers.
The objective of this fund is to provide concessional finance to the entities of the SC entrepreneurs. Under this fund, 117 companies promoted by SC entrepreneurs have been sanctioned financial assistance to set up business ventures.
Ambedkar Social Innovation Incubation Mission:
Under the Ambedkar Social Innovation Incubation Mission initiative, one thousand SC youth will be identified in the next four years with start-up ideas through the Technology Business Incubators in various higher educational institutions.
They will be funded 30 lakh rupees in three years as equity funding to translate their start-up ideas into commercial ventures.
Successful ventures would further qualify for venture funding of up to five Crore rupees from the Venture Capital Fund for SCs.
Eligible for support under ASIIM:
Youth who have been identified by the TBIs being promoted by the Department of Science & Technology.
Youth who are identified for incubation by reputed private TBIs.
Students who have been awarded under the Smart India Hackathon or Smart India Hardware Hackathon being conducted by the Ministry of Education.
Innovative ideas focusing on the socio-economic development of the society identified in the TBIs.
Start-ups nominated and supported by corporates through CSR funds.
3.Government borrowing: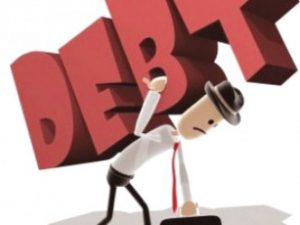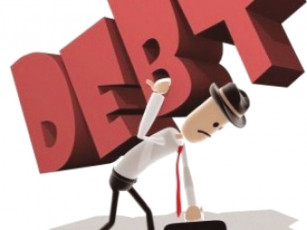 The Finance Ministry has said that the government will borrow Rs 4.34 lakh crore in the second half of the current fiscal to meet its expenditure requirement amid the COVID-19 crisis afflicting the country"s economy.
With this, the government will stick to the revised borrowing target for the current fiscal.
The Centre had revised the borrowing target to Rs 12 lakh crore in May against Rs 7.8 lakh crore approved in the Budget 2020-21.
The Budget has pegged fiscal deficit at 3.5 per cent for the current fiscal, down from 3.8 per cent of the GDP in the last financial year.
Last fiscal, the government had to resort to the "escape clause" in the Fiscal Responsibility and Budget Management (FRBM) Act for deviating from the fiscal deficit target to 3.8 percent from the Budget estimate of 3.3 percent for 2019-20.
The "escape clause" allows the government to breach its fiscal deficit target by 0.5 percentage points at times of severe stress in the economy, including periods of structural change and those when growth falls sharply.
Government borrowing:
Borrowing is a loan taken by the government and falls under capital receipts in the Budget document.
Usually, Government borrows through the issue of government securities called G-secs and Treasury Bills.
The bulk of the government's fiscal deficit comes from its interest obligation on past debt.
If the government resorts to larger borrowings, more than what it has projected, then its interest costs also go up risking higher fiscal deficit. That hurts the government's finances.
Larger borrowing program means that the public debt will go up and especially at a time when the GDP growth is subdued, it will lead to a higher debt-to-GDP ratio.
4.Zombie fires: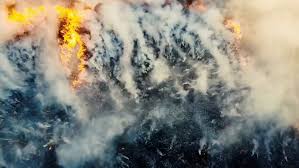 Zombie fires' becoming more frequent in the Arctic in addition to fires occurring in the once-frozen tundra.
A zombie fire is a fire that continues to burn underground and then reignites on the surface after a period of time.
Fires in the Arctic are spreading to areas that were formerly fire-resistant.
The tundra — north of the Arctic Circle — is drying up and vegetation there like moss, grass, dwarf shrubs, etc are starting to catch fire.
The fires and record temperatures have the potential of turning the carbon sink into a carbon source and increasing global warming.
There is an urgent need to understand the nature of fires in the Arctic which are evolving and changing rapidly.
The issue needs to be taken up as an issue of global importance.
There is a need for global cooperation, investment and action in monitoring fires.
Also needed the learning from indigenous people of the Arctic about how the fire was traditionally used.
New permafrost- and peat-sensitive approaches to wildland fire fighting are also needed to save the Arctic.
Other important current affairs:
1.Government of India has declared November 18 as Naturopathy Day in commemoration of the commitment made by Mahatma Gandhi to Nature Cure on that day in 1945.
Naturopathy means 'natural cure'.
By using a combination of a healthy diet, simple self-help techniques, for example, breathing and relaxation exercises, beneficial herbs and general exercise, naturopathy seeks to promote the body's own ability to heal itself.
Naturopaths treat most long-term conditions.
In this practice it is used to treat recurrent infections, long-term fatigue, anxiety and irritable bowel syndrome.
It is also useful for allergic conditions, chronic muscle pain and chronic disease in general.
2.BrahMos Missile:
Successfully flight tested.
It is a surface-to-surface supersonic cruise missile featuring indigenous Booster and Airframe Section.
It flies almost three times the speed of sound at Mach 2.8.
The new BrahMos missile can strike targets over 400-km away with pin-point accuracy.
The missile was jointly developed by India and Russia and was first tested in 2001.
3.A Fast Patrol Vessel (FPV) named ICGS Kanaklata Barua was commissioned in the Indian Coast Guard in Kolkata.
It is the fifth and last in a series of FPVs built by Garden Reach Shipbuilders and Engineers (GRSE) Ltd.
The other four are ICGS Priyadarshini (named after Indira Gandhi), ICGS Annie Besant, ICGS Kamala Devi (after Kamala Devi Chattopadhyay), and ICGS Amrit Kaur.
These FPVs are upgraded versions of the inshore patrol vessels with a modified form of the hull and can achieve a speed of 34 knots. Such vessels have also been delivered to the Indian Navy by GRSE.
These are suited for patrolling, maritime surveillance, anti-smuggling, anti-poaching operations and also for fishery protection, and rescue and search missions.
These FPVs are medium-range surface vessels with a length of around 50 m, and a displacement of over 300 tonnes.
Kanaklata Barua is named after a teenage freedom fighter who was shot dead in Assam during the Quit India Movement.
One of the youngest martyrs of the Quit India Movement, Kanaklata Barua has iconic status in Assam. Barua, then 17, led the Mukti Bahini, a procession of freedom fighters to unfurl the Tricolour at Gohpur police station on September 20, 1942.
When police did not let them move forward, an altercation led to the firing, killing Barua at the head of the procession.
The Coast Guard had named an earlier ship after her.
The previous ICGS Kanaklata Barua was commissioned in 1997 and decommissioned in 2017.
The ship was dismantled in 2018 and sold as scrap.
4.To mark the occasion of 151 years of postcards in India, Maharashtra Circle of India Post will release picture postcards on 'Sawantwadi Toys' on October 1. The postcard is inspired by Prime Minister Narendra Modi's speech about the country's ability to become a "toy hub".
Sawantwadi toys refer to handmade works of art made of wood in Sawantwadi a town in the Sindhudurg district of Maharashtra. Most of these toys are made in the village of Kolgaon in Sawantwadi taluka.
These toys are made from the wood of the Indian Coral tree (Erythrina variegata).
Craftsmen who make these toys belong to the Chittari community who came to Sawantwadi from Karwar and Goa.
5.The Union Minister of Fisheries released the 2nd edition of the newsletter "Matsya Sampada" and a Beneficiary Booklet on Pradhan Mantri Matsya Sampada Yojana (PMMSY) which provides a comprehensive outline of the different components/activities of the PMMSY scheme.
PMMSY aims to enhance fish production to 220 lakh tons by 2024-25.
This is a media outreach plan of the Department of Fisheries to reach out to fishermen and fish farmers of India.
The ambitious scheme will result in doubling export earnings to Rs.1,00,000 crores and generate about 55 lakh direct and indirect employment opportunities in the fisheries sector over a period of the next five years.
6.India's eight-core industrial sectors contracted by 8.5% in August 2020 compared to August 2019, marking the sixth month in a row of shrinking output.
The eight-core sector industries are coal, crude oil, natural gas, refinery products, fertilizers, steel, cement, and electricity.
These eight industries account for 40.27% in the Index of Industrial Production (IIP).
Contraction:

The cumulative growth of Core Industries during April to August 2020-21 has been (-) 17.8%.
Except for coal and fertilizers, production continued to decline in most core sectors in August.
Coal production increased 3.6% on-year in August after four months of contraction, due to improvement in offtake level.
An offtake agreement is an arrangement between a producer and a buyer to purchase or sell portions of the producer's upcoming goods.
The steepest decline in August was observed in refinery products, which dropped 19.1%. This was followed by cement and natural gas.
7.International Day of Older Persons is being observed on 1 October.
On 14 December 1990, the United Nations General Assembly designated October 1 as the International Day of Older Persons.
This was preceded by initiatives such as the Vienna International Plan of Action on Ageing, which was adopted by the 1982 World Assembly on Ageing and endorsed later that year by the UN General Assembly.
The year 2020 marks the 30th Anniversary of the International Day of Older Persons.
This year has also been recognised as the "Year of the Nurse and Midwife". International Day of Older Persons 2020 will highlight the role of the health care workforce in contributing to the health of older persons, with special recognition of the nursing profession.
The 2020 observance will also promote the Decade of Healthy Ageing (2020-2030) and help bring together experts to discuss the five strategic objectives of the Global Strategy and Action plan on Ageing and Health.