Delimitation In Four North-East States: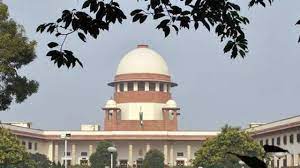 Supreme Court issues notice on the plea seeking delimitation in Nagaland, Arunachal Pradesh, Assam, Manipur.
As per section 8A of RPA 1950, President can order delimitation exercises in these four states.
However, no such exercise has taken place in these four states in the last 51 years due to various concerns.
Previous order for delimitation (in 2020) was limited to J&K only.
Delimitation literally means the process of fixing limits or boundaries of territorial constituencies in a state that has a legislative body.
Delimitation commission orders have the force of law and they cannot be challenged before any court.
According to the Delimitation Commission Act, 2002, the Delimitation Commission will have three members: a serving or retired judge of the Supreme Court as the chairperson, and the Chief Election Commissioner or Election Commissioner nominated by the CEC and the State Election Commissioner as ex-officio members.
Under Article 82, the Parliament enacts a Delimitation Act after every Census.
Under Article 170, States also get divided into territorial constituencies as per the Delimitation Act after every Census.