National SC-ST Hub: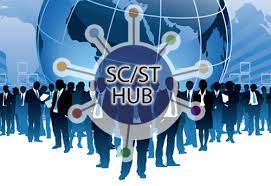 The 5th meeting of High Powered Monitoring Committee (HPMC) under National SC-ST Hub scheme was chaired by Union Minister of Micro, Small and Medium Enterprises.
Objective of National SC-ST Hub is to develop a supportive ecosystem for SC/ST entrepreneurs to achieve the mandated 4% procurement by the CPSEs from the SC/ST entrepreneurs as laid down in Central Government Public Procurement Policy for Micro and Small Enterprises.
Scheme applicable for existing and Aspiring SC/ST Entrepreneurs.
Key Benefits:

To achieve 4% Public Procurement target from SC-ST entrepreneurs.
Facilitating SC/ST Entrepreneurs to be part of vendor development programs and mentoring support.
Collection, collation and dissemination of information regarding SC/ST enterprises and entrepreneurs.
Distribution of trade specific tool kits to trained candidates.

The key action areas: Vendor development, participation in public procurement, building reliable database, credit facilitation, technology upgradation, marketing support, and special subsidies under various schemes etc.