Indo-French Joint Exercise Desert Knight-21: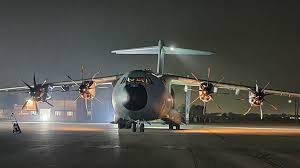 Indian Air Force (IAF) and French Air and Space Force will conduct a bilateral Air exercise, Ex Desert Knight-21 at Air Force Station Jodhpur from 20 to 24th Jan 2021.
The exercise is unique as it includes fielding of Rafale aircraft by both sides and is indicative of the growing interaction between the two premiers Air Forces.
Presently, the French detachment for Ex Desert Knight-21 is deployed in Asia as part of their 'SKYROS Deployment'.
Rafale fighter jets of India and France are carrying out wargames codenamed Exercise SKYROS.
Beginning September 2020, the IAF has inducted and operationalised eight Rafale fighter jets of the 36 jets contracted from France in a 7.87-billion euro deal in 2016.
Defence Exercises between India and France:

Varuna – Naval exercise
Garuda – Air exercise
Shakti – Army exercise

Gagan Shakti is conducted by the Indian Air Force to showcase its air dominance over the entire extended area of the Indian Ocean Region.

It includes all terrain operations – desert, high altitude, maritime scenarios and special operations – in real time with specific focus on key areas like aerial combat, air to surface combat, paratrooper assault and medical evacuation.

Garuda Shakti is the joint military exercise between India and Indonesia.
Mitra Shakti is the joint military exercise between India and Sri Lanka.