Maharishi Dayanand Saraswati Jayanti: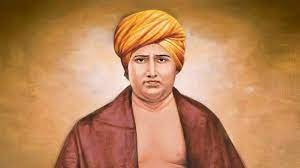 The Prime Minister of India inaugurated the year-long (two-year) celebrations commemorating the 200th birth anniversary of Maharishi Dayanand Saraswati. He also released a logo for commemoration.
Maharishi Dayanand Saraswati Jayanti is celebrated every year to mark the birth anniversary of the Maharishi Dayanand Saraswati.
He was born on 12th February 1824 in Tankara, Gujarat in a Brahmin family.
His views were published in his famous work, Satyarth Prakash (The True Exposition).
He was an Indian philosopher, social leader and founder of the Arya Samaj.
His vision of India included a classless and casteless society. He took inspiration from the Vedas and considered them to be 'India's Rock of Ages'.
He also gave the slogan "Back to the Vedas".
The DAV (Dayanand Anglo Vedic) schools came into existence in 1886 to realize the vision of Swami Dayanand Saraswati.