DMH-11 : Genetically Modified (GM) Mustard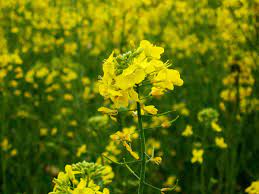 The Genetically Modified (GM) mustard Dhara Mustard Hybrid (DMH-11) was tested in the field and shown to be more productive.
Production of the DMH-11 variety is not interfering with honey bees' natural pollination practices.
Genetically Modified (GM) Crops are derived from plants whose genes are artificially modified, usually by inserting genetic material from another organism, in order to give it new properties, such as increased yield, tolerance to a herbicide, resistance to disease or drought, or improved nutritional value.
Earlier, India approved the commercial cultivation of only one GM crop, Bt cotton, but Genetic Engineering Appraisal Committee (GEAC) has recommended GM Mustard for commercial use.
DMH-11 is an indigenously developed transgenic mustard.
It is a genetically modified variant of Herbicide Tolerant (HT) mustard.
DMH-11 is a result of a cross between Indian mustard variety 'Varuna' and East European 'Early Heera-2' mustard.
It contains two alien genes ('barnase' and 'barstar') isolated from a soil bacterium called Bacillus amyloliquefaciens that enable breeding of high-yielding commercial mustard hybrids.
Barnase in Varuna induces a temporary sterility because of which it can't naturally self-pollinate. Barstar in Heera blocks the effect of barnase allowing seeds to be produced.
DMH-11 has shown approximately 28% more yield than the national check and 37 % more than the zonal checks and its use has been claimed and approved by the GEAC.
"Bar gene" maintains the genetic purity of hybrid seed.