Good Governance Day : 25th December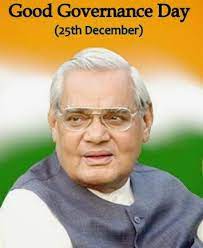 Good Governance Day being celebrated on the birth anniversary of former Prime Minister Atal Bihari Vajpayee.
Governance is the process of decision-making and the process by which decisions are implemented (or not implemented).
Governance can be used in several contexts such as corporate governance, international governance, national governance and local governance.
Good Governance is defined as "the manner in which power is exercised in the management of a country's economic and social resources for development"
The concept of good governance existed even during the days of Chanakya.
He had mentioned it elaborately in Arthashastra.
Citizens centric administration lies on the foundation of good governance.
8 Principles of Good Governance:
Participation
Rule of Law
Consensus Oriented
Equity and Inclusiveness
Effectiveness and Efficiency
Accountability
Transparency
Responsiveness