African Rhinoceros: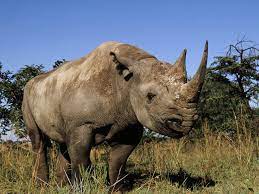 A report has stated that Rhino poaching rates in Africa declined to 2.3% in 2021 from 3.9% in 2018.
At least 2,707 rhinos were poached in Africa between 2018 and 2021, including critically endangered black rhino and near threatened white rhino.
The report was compiled by the International Union for Conservation of Nature (IUCN), Species Survival Commission (SSC), African and Asian Rhino Specialist Group (AfRSG) and TRAFFIC.
African Rhino Specialist Group (AfRSG) gathered information from thirteen rhino range countries:

Botswana, Chad, Eswatini, Kenya, Malawi, Mozambique, Namibia, Rwanda, South Africa, Tanzania, Uganda, Zambia and Zimbabwe.
Findings of the Report:
Rhinoceros poaching rates in Africa have declined from a peak of 5.3% of the total population in 2015 to 2.3% in 2021.
South Africa accounted for 90% of all reported cases, predominantly affecting white rhinos in Kruger National Park.
South Africa lost 394 rhinos to poaching in 2020, while Kenya didn't record any poaching that year.
The total estimate of rhinos in Africa was 22,137 at the end of 2021.
There has been an increase in poaching in private properties.
A total of 451 rhinos were poached in South Africa in 2021: 327 within government reserves and 124 on private properties.
The number of white rhinos in the continent declined by almost 11.8% during 2015-18, while populations of black rhinos increased by just over 12.2%.
Zimbabwe conserves the largest population of African Rhinoceroses among the four range countries in Africa namely South Africa, Namibia, Kenya and Zimbabwe.