Drug Menace In India::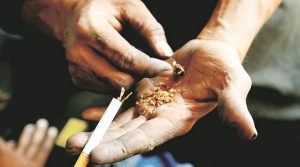 India has signed 26 bilateral pacts, 15 memoranda of understanding and two agreements on security cooperation with different countries for combating illicit trafficking of narcotic, drugs and psychotropic substances, besides chemical precursors.
Drug Menace In India:
The menace of drug addiction has spread fast among the youth of India.
India is sandwiched between two largest Opium producing regions of the world that is the Golden triangle on one side and the Golden crescent on other.
The golden triangle area comprises Thailand, Myanmar, Vietnam and Laos.
The golden crescent area includes Pakistan, Afghanistan and Iran.
According to the World Drug Report 2021, prescription drugs and their ingredients or 'precursors' are being increasingly diverted for recreational use in India–the largest manufacturer of generic drugs in the world.
India is also linked to shipment of drugs sold on the 19 major darknet markets analysed over 2011-2020.
As per the report Magnitude of Substance Use in India released by All India Institute Of Medical Science (AIIMS) in 2019:
Around 5 crore Indians reported to have used cannabis and opioids at the time of the survey (conducted in the year 2018).
It has been estimated that there are about 8.5 lakh people who inject drugs.
Of the total cases estimated by the report, more than half of them are contributed by states like Punjab, Assam, Delhi, Haryana, Manipur, Mizoram, Sikkim and Uttar Pradesh.
About 60 lakh people are estimated to need help for their opioid use problems.