E-Prisons Project: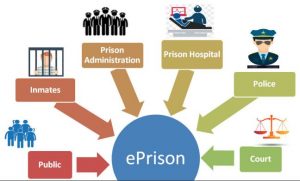 The Ministry of Home Affairs (MHA) has provided financial assistance of Rs. 99.49 crores to the States and Union Territories (UTs) for the E-Prisons Project.
Also, acting on the request of the MHA, NIMHANS, an Institute of National Importance, has recently issued a set of guidelines on the management of mental health issues of the prisoners and prison staff.
This project aims at computerization of the functioning of prisons in the country. It has been operationalised in all States and Union Territories.
e-Prisons data has been integrated with the Police and Court system under the Inter-operable Criminal Justice System.
ePrisons application suite has been developed by National Informatics Centre (NIC), Ministry of Electronics & IT (MeitY).
It has 3 components:

e-Prison Management Information System (MIS): It is used at the prisons for their day to day regular activities.
National Prisons Information Portal: It is a citizen centric portal showing statistical data of various prisons in the country.
Kara Bazaar: Portal for showcasing and selling the products manufactured in various prisons of the country by inmates.
Inter-operable Criminal Justice System:
It is a common platform for information exchange and analytics of all the pillars of the criminal justice system comprising Police, Forensics, Prosecution, Courts, Prisons.
Purpose: To reduce errors and time taken in sharing of necessary information between the pillars, which often lead to larger challenges like longer duration of trials, poorer convictions, transit losses of documents etc.
Some other critical benefits arising out of the ICJS ecosystem are usable analytics products like the National Database on Sexual Offenders (NDSO) to identify & track repeat and habitual sexual offenders.