Vishwakarma Yojana: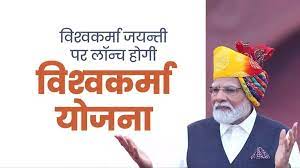 On India's 77th Independence Day, Prime Minister announced the upcoming launch of the 'Vishwakarma Yojana' which is set to be introduced on Vishwakarma Diwas (September 17).
This scheme aims to benefit individuals skilled in traditional craftsmanship, especially from the Other Backward Classes (OBC) community.
Skilled artisans like weavers, goldsmiths, blacksmiths, laundry workers, and barbers, among others, will be empowered through this scheme.
The scheme will encompass various elements such as financial aid, modern and green technology training, brand promotion, market connectivity, digital payments, and social security.
The initiative is in line with other successful government schemes like Jan Dhan Yojana, PM SvaNidhi, and Ujjwala, and seeks to empower artisans and strengthen the agri-tech sector, including women self-help groups, by providing them with 15,000 drones and necessary training.