'Kiran Helpline':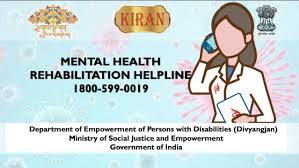 As per the data of the Ministry of Social Justice and Empowerment, 70% of callers to the 'Kiran Helpline', launched in September 2020, were men. Most of the calls have been from young adults.
The 24/7 toll-free helpline 'Kiran' provides support to people facing anxiety, stress, depression, suicidal thoughts and other mental health concerns.
Data Analysis:
Gender & Mental Health: Out of the 13,550 new calls received, 70.5% were from males and 29.5% from females.
Vulnerable Age Group: The majority of callers (75.5%) were in the age group of 15 to 40 years, while 18.1% in the 41 to 60 age group.
Major Issues: Majorly the challenges faced by the callers were related to anxiety and depression; while few others included pandemic-related challenges, suicidal tendency, substance abuse, and others miscellaneous.
Issues Related to Male Mental Health:
Traditional Gender Roles: Societal expectations and traditional gender roles play an important role in why men are less likely to discuss or seek help for their mental health problems.
Ignoring Warning Signs: For men, the warning signs of mental disorders include irritability, trouble focusing, tiredness or listlessness, aches and pains, alcohol or drug abuse, and more.
Lack of Proper Attention: Research on men's health issues has been given relatively low priority. Due to a lack of funding and proper attention, the situation becomes more serious.
Increase in Number of Suicides: In 2018, around 250 Indian men took their own lives per day – more than twice the number of women.