Ek Tareekh Ek Ghanta Ek Saath Initiative: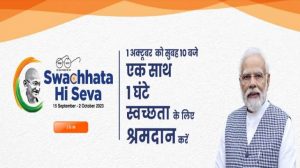 The "Ek Tareekh Ek Ghanta Ek Saath" initiative is a massive voluntary effort for cleanliness in India, endorsed by Prime Minister Narendra Modi.
The initiative encourages citizens to engage in one hour of "shramdaan" (voluntary labour) for cleanliness at 10 am on October 1st as a tribute to Mahatma Gandhi.
Various groups and organizations, including Resident Welfare Associations, village communities, NGOs, market associations, faith groups, and the private sector, have come forward to participate in shramdaan at different locations.
Swachhata Pakhwada 2023, with the theme "Garbage Free India," is organized alongside this initiative and has seen the participation of over 31 crore citizens across the nation in various cleanliness-related activities.