Pushkar Singh Dhami: Chief Minister Of Uttarakhand: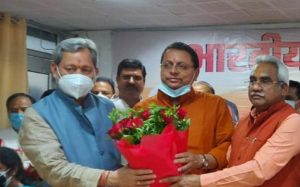 Pushkar Singh Dhami took oath as Chief Minister of Uttarakhand. He replaced Tirath Singh Rawat.
Tirath Singh Rawat's term as Uttarakhand Chief Minister — that lasted just 114 days — was riddled with controversies over his remarks as well as reversal of decisions taken by his predecessor Trivendra Singh Rawat who had resigned in March after leading the state government for four years.
Days after the swearing-in, the Tirath cabinet suspended Trivendra's decision to declare the state summer capital of Gairsain as the third administrative division in the state after Garhwal and Kumaon.
In a meeting of the Vishwa Hindu Parishad (VHP) and saints in Haridwar Kumbh in April, Tirath had announced a review of the Uttarakhand Char Dham Devasthanam Board that was constituted by Trivendra on January 15 last year.
Key constitutional provisions for CMs:

Article 163(1): There shall be a Council of Ministers with the Chief Minister at the head to aid and advise the Governor in the exercise of his functions, except in so far as he is by or under the Constitution required to exercise his functions or any of them in his discretion.
Article 164(1): The Chief Minister shall be appointed by the Governor and the other Ministers shall be appointed on the advice of the Chief Minister.
Article 164(2): The Council of Ministers shall be collectively responsible to the Legislative Assembly of the State.