Ct value' In RT-PCR tests: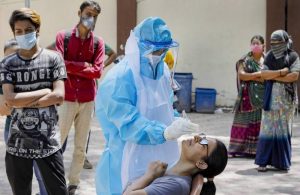 Among various scientific terms that the Covid-19 pandemic has made part of the public vocabulary, one is the 'Ct value' in RT-PCR tests for determining whether a patient is positive for Covid-19.
Short for cycle threshold, Ct is a value that emerges during RT-PCR tests, the gold standard for detection of the SARS-CoV-2 coronavirus.
According to the ICMR advisory, the Ct value of an RT-PCR reaction is the number of cycles at which fluorescence of the PCR product is detectable over and above the background signal.
The Ct value refers to the number of cycles after which the virus can be detected. If a higher number of cycles is required, it implies that the virus went undetected when the number of cycles was lower.
The lower the Ct value, the higher the viral load — because the virus has been spotted after fewer cycles.
According to the ICMR, a patient is considered Covid-positive if the Ct value is below 35. In other words, if the virus is detectable after 35 cycles or earlier, then the patient is considered positive.