Electoral Bonds : Update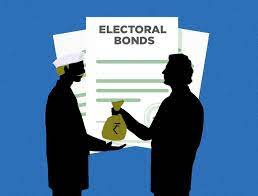 The Supreme Court of India has referred the challenge to the validity of the electoral bonds scheme, which allows anonymous donations to political parties, to a Constitution Bench of five judges.
The case also pertains to the passage of the electoral bonds scheme as a Money Bill
The electoral bonds system was introduced in 2017 by way of a Finance bill and it was implemented in 2018.
They serve as a means for individuals and entities to make donations to registered political parties while maintaining donor anonymity.
Features:
State Bank of India (SBI) issues the bonds in denominations of Rs 1,000, Rs 10,000, Rs 1 lakh, Rs 10 lakh, and Rs 1 crore.
EB is Payable to the bearer on demand and interest-free.
Purchased by Indian citizens or entities established in India.
Can be bought individually or jointly with other individuals.
Valid for 15 calendar days from the date of issue.
SBI is the authorized issuer.
Electoral Bonds are issued through designated SBI branches.
Only the political parties registered under Section 29A of the Representation of the People Act, 1951 and have secured not less than 1% of the votes polled in the last general election to the House of the People or the Legislative Assembly, are eligible to receive electoral bonds
Electoral Bonds can be purchased digitally or through cheques.
Encashment only through an authorized bank account of the political party.
Parties must disclose their bank account with the Election Commission of India (ECI).
Donations are made through banking channels, ensuring transparency.
Political parties are obligated to explain the utilization of the funds received.