5G Technology: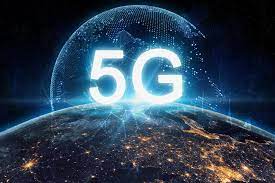 According to the recently released 'Ericsson Mobility Report'
Fifth generation telecom services are likely to account for 39% of mobile subscriptions or about 500 million subscriptions in India at the end of 2027.
The total number of smartphone subscriptions is expected to be 810 million at the end of 2021 and is projected to grow at a compounded annual growth rate of 7%, exceeding 1.2 billion by 2027.
4G subscriptions are expected to reduce from 68% of mobile subscriptions in 2021 to 55% in 2027 as subscribers migrate to 5G.
5G is the next generation of mobile broadband that will eventually replace, or at least augment 4G LTE connection.
Features and benefits of the 5G technology:
Operate in the millimeter wave spectrum (30-300 GHz) which have the advantage of sending large amounts of data at very high speeds.
Operate in 3 bands, namely low, mid and high frequency spectrum.
Reduced latency will support new applications that leverage the power of 5G, the Internet of Things (IoT), and artificial intelligence.
Increased capacity on 5G networks can minimize the impact of load spikes, like those that take place during sporting events and news events.