Mission Indradhanush (IMI) 3.0: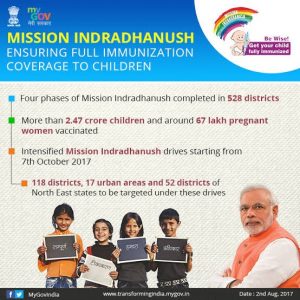 Two rounds of Intensified Mission Indradhanush (IMI) 3.0 of 15 days' duration were conducted recently, to reach out to the pregnant women and children who missed vaccination under routine immunisation programmes in 250 districts across 29 states/UTs.
During Intensified Mission Indradhanush (IMI) 3.0 around 9.5 lakh children and 2.2 lakh pregnant women were vaccinated.
Various States and UTs have started implementation of the Intensified Mission Indradhanush 3.0.
About IMI 3.0:
It is a campaign aimed to reach those children and pregnant women who have been missed out or been left out of the Routine Immunisation Programme.
This is aimed to accelerate the full immunisation of children and pregnant women through a mission mode intervention.
The first phase has been rolled out from 22nd Feb. for 15 days,
It is being conducted in pre-identified 250 districts/urban areas across 29 States/UTs in the country.
Beneficiaries from migration areas and hard to reach areas will be targeted as they may have missed their vaccine doses during the pandemic.
As per the guidelines released for IMI 3.0, the districts have been classified to reflect 313 low risk; 152 medium risk; and 250 high risk districts.
Mission Indradhanush:
'Mission Indradhanush' was launched by the Government of India in Decmber 2014.
It was aimed to strengthen and re-energize the programme and achieve full immunization coverage for all children and pregnant women.
The ultimate goal of Mission Indradhanush is to ensure full immunization with all available vaccines for children up to two years of age and pregnant women.