Technology And Innovation Report 2021: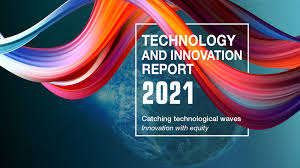 India was the biggest 'overperformer' in frontier technologies than the country's per capita Gross Domestic Products (GDP) would suggest, according to a recent country-readiness index of the Technology And Innovation Report 2021.
The report was released by the United Nations Conference on Trade and Development (UNCTAD).
The report examines the likelihood of frontier technologies widening existing inequalities and creating new ones.
It also addresses the national and international policies, instruments and institutional reforms that are needed to create a more equal world of opportunity for all, leaving no one behind.
Frontier Tech Market: The report shows that frontier technologies already represent a USD 350 billion market, which could grow to USD 3.2 trillion by 2025.
It calls for strengthened international cooperation to build innovation capacities in developing countries, facilitate technology transfer.
Envisages increase women's participation in digital sectors, conduct technological assessments, and promote an inclusive debate on the impact of frontier technologies on sustainable development.
India's actual index ranking is 43, while the estimated one based on per capita income is 108.
This meant that India overperformed other countries by 65 ranking positions.
India was followed by the Philippines, which overperformed by 57 ranking positions.
India performed well in research and development.
This is reflected in its abundant supplies of qualified and highly skilled human resources available at a comparatively low cost.
However, countries such as the United States, Switzerland, and the United Kingdom were "best prepared" for frontier technologies.