EU And India Carry Out Maiden Joint Naval Exercise: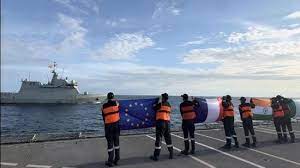 India and the European Union (EU) collaborated in the Gulf of Guinea to enhance naval maritime security cooperation in the region.
This marked their first joint naval exercise, following the EU-India Maritime Security Dialogue.
During the exercise, the Indian Navy's INS Sumedha, along with ships from Italy, France, and Spain, conducted tactical maneuvers off the coast of Ghana, including boarding and flying exercises.
These efforts demonstrated India and the EU's joint commitment to enhancing maritime security in the Gulf of Guinea, supporting coastal States, and upholding the United Nations Convention on the Law of the Sea (UNCLOS).